By Howard Mandel
Guest Blogger
What everybody wants for Christmas and the New Year is love — which to performing artists, arts presenters and arts journalists often means new audiences.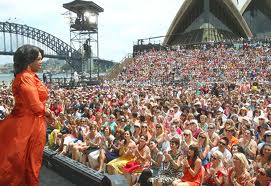 But as the immortal Captain Beefheart said, "There ain't no Santy Claus on the evening stage."  The gift of an audience won't be plopped in our laps. So the Jazz Journalists Association is producing, with the assistance of the Association of Performing Arts Presenters, Media for Audience Development, a four-session mini-conference focusing on use of media — online and social — by arts professionals to the folks we know are out there, at the APAP|NYC conference Jan. 6-10, 2012.
As an independent arts journalist and frequent observer of presenters and artists agonizing over what to do in a scene utterly different from what we'd expected or previously experienced, I have one simple answer: Use media as it is today. Putting out a press release will get no longer win print publication advance articles to drive ticket buyers your way. Reviews by "experts" no longer suffice to validate what you present. Things ain't what they used to be. Sorry, but get over it and into what's happening now.
Arts-industry panelists at the JJA mini-conference will affirm that today being a presenter means conceiving of programming as starting before you've released your season schedule, continuing throughout preparation stages and lasting after performances themselves. Michael Geller, executive director of the American Composers Orchestra, will explain the decision to commission video portraits of programmed composers and use them during the concert as well as everywhere possible before it. Josh Jackson, producer for NPR and WBGO of The Checkout, will confirm, that social media posts can excite an appetite for work-in-progress; fans who will share their excitement with friends and family who may do the same. Publicists John Seroff of GreenHouse Publicity and Scott Mehinick of Improvised Communications/JazzDIY will speak of sparking conversations about what's exciting of the art you've scheduled, and Jo Ann Kawell of Ozmotic Media will offer tips on taking part in that conversation as a peer with privileged information.
People now seek out video to preview arts they consider paying to see or hear: Susan Brink of Unexpected Venues and the JJA eyeJAZZ initiative), George Moorer and Greg Thomas of Jazz It Up! tv, fimmaker-videographer-educator Jeremy Robins who created the ACO composers' portraits and Huffington Post videoblogger Michal Shapiro will detail where production and distribution of such video stands now.
You want to get people into venues where they're comfortable and have them interact with each other socially? Doron Sadja of Roulette (Brooklyn), Marguerite Horberg of Porotluz (Chicago), Giovanni Russonello of CapitalBop.com (Washington D.C.), Mark Christman of Ars Nova Workshop (Philadelphia) will share how they do that, what works and what doesn't. You know there are both professional and non-pro blogs that have large and/or local viewership? Daniel Maurer, editor of The Local East Village and Steve Smith, music editor of Time Out New York speak to that. I may chime in blogging, which I on ArtsJournal.com/JazzBeyondJazz and NoDepression.com.

At the JJA mini-conference you'll meet journalists coping with new media, artists pursuing higher profile, presenters who want to make a difference. The JJA party line is that all actors in the arts ecology must collaborate and cooperate to help our beleaguered activities survive, because in the arts you've got to know how to do it yourself, but you can't do much alone. Artists, presenters and the media are three pillars that the arts audience floats upon; if any one of them is shorted or missing, that audience won't last for long.
Our mini-conference won't solve problems instantly, but will avow that sharing information and interaction among presenters, artists and media alike is the best and in the long run the only way to go. For the third year in a row, these media meetings coincide with APAP, the NEA Jazz Masters presentations, the Winter Jazzfest and GlobalFest showcases and Chamber Music America conference (where the JJA is also staging a panel, "Social Media Without Fear"). Becoming our own media-makers — putting video spotlight on the arts – what works and what doesn't — hyperlocal and global platforms: these programs are free to all APAP conferees, JJA members and the interested public but space is limited so registration is required (and does not admit anyone into the APAP conference itself).
Questions? Email me at: President@jazzjournalists.org.
Editor's note: The opinions expressed in this blog are strictly those of the writer and do not necessarily represent the position of APAP, its staff or members.